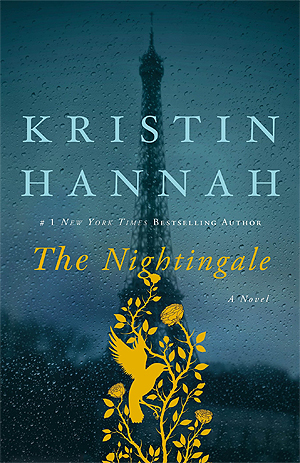 I feel like this is a book that will haunt me for a while. This was our book club selection for February and I loved it.
I have read a LOT of books about World War II and it makes you wonder how many stories are left to be told. But this one took a different approach and taught me some things I had never learned in a history class.
Vianne and Isabelle are French sisters who have led a difficult life. Their mother died when they were quite young, and their father, damaged from his time in WWI isn't able to care for them. They are sent from their life in Paris to live at a family home in the country. Vianne falls in love and marries quite young and Isabelle ends up bouncing around from school to school, a problem student who never seems to be able to find her place in life.
When WWII erupts, Vianne's husband leaves to fight, leaving her at home with their young daughter, Sophie. Isabelle gets kicked out of yet another school so her father sends her to live with Vianne to help during her husband's absence. Isabelle isn't satisfied with this and quickly joins a resistance group, trying to liberate France from Nazi occupation. She develops a plan that will help downed Allied airmen who have landed in France to escape over the Pyrenees to Spain where they can return home to take up the fight once again. She becomes known as the Nightingale and makes nearly 30 of these treks over the mountains to lead men to safety.
In the meantime, Vianne is left in the family home, with German soldiers billeting in her home against her will. Starving, cold, and alone, Vianne is forced to make some difficult decisions to protect her home and her family.
It is a beautiful story of how these women each found their strength in completely different ways. One jumped into dangerous decisions too quickly, the other acted out of a desperate desire to keep her loved ones safe.
I had never heard anything about downed airmen escaping over the mountains to safety. I've seen
The Sound of Music,
but I have read that the real story is a lot less exciting than portrayed in the movie and that there wasn't actually an escape over the mountains. But these escapes happened, lots of them. You can read a bit more about that
here
.
It is a beautiful book, full of pain, heartbreak and life-altering decisions. It is beautifully written and I highly recommend it.